American Metal Processing Company, LLC

HOME


An important Covid-19 message for our valued customers and suppliers: WE ARE OPEN. American Metal Processing Company has been deemed an "essential business" under the Stay-At-Home Order issued on March 22, 2020 by Ohio Governor Mike Dewine. Accordingly, we are open, operating, and working diligently to meet the needs of our valued customers. In order to keep our employees, customers, suppliers, and the community safe as we maintain our commitment to world-class quality and service we have implemented the following protective measures:
We have mandated that many of our office personnel work remotely and have provided the technology needed to ensure that this process does not impact the high level of customer service we offer.
We have implemented a strict no visitor policy at our facilities and have eliminated all non-essential business travel.
We have made accommodations so truckers will not come into contact with our employees.
Any employee who feels ill must remain at home.
We have significantly increased cleaning and sanitation efforts at our facilities.

We are confident the steps outlined above will enable us to continue to operate during the ongoing Covid-19 emergency. We are also prepared to take any additional actions that may be mandated by the Federal or State government in the future. We will, of course, provide status updates as the situation evolves.
---
American Metal Processing Company, LLC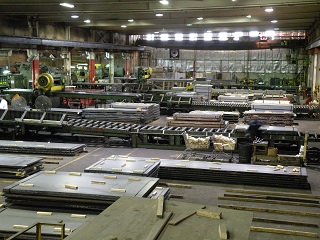 Processors of Sheet, Plate, and Slit from Coil.
Heavy Gauge Coil Slitting and Leveling

85,000 square foot building under crane for your storage needs.
Able to handle up to 40 ton coil.
We don't sell steel and offer complete confidentiality.
Need it slit or leveled today? No problem, give us a call.
AMP Claims Policy (PDF file)